The inspiration for this house really stemmed from a kitchen image that the client fell in love with. That one image became the inspiration that propelled the entire design scheme – from exterior to interior. The color palette was crisp and clean, with just enough contrast to keep things interesting! We wanted modern elements that would be timeless without being too trendy, but also wanted to layer in multiple textures to keep things more casual and cozy!
Livening up the Living Room
There were many design elements throughout the house that we discussed in detail with the client. The first big area was the TV room off of the kitchen—this room needed to stand out from the rest. The vision was a swath of paneling with dark walls, ceiling and trim to contrast with cozy light furniture and natural elements to pull out the fireplace stone and add some contrast.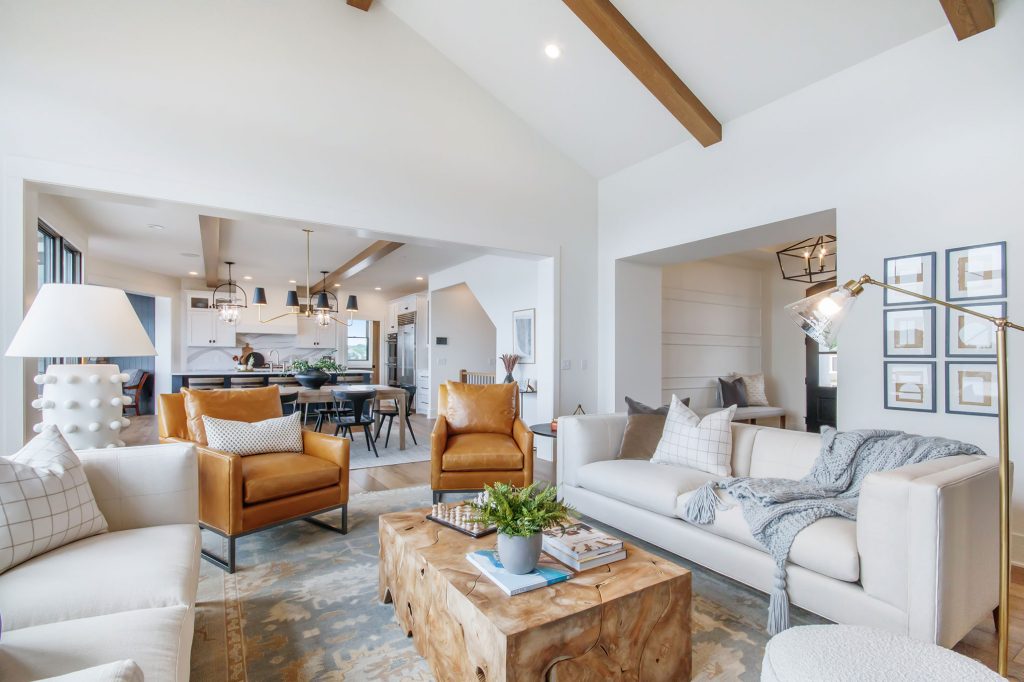 One challenge was achieving harmony on the exterior. After a lot of thought and discussion we chose a color that coordinated with the front and siding. Of course, on any job there is always some value engineering that happens because our dreams get so big, but there was nothing that we couldn't' accommodate for them.
We're happy to have achieved a home with a simple but sophisticated geometry and nautical undertones. From the patio to the bedroom, chic blue and gray tones are complemented with elegant hardwood, pristine carpet, and elegantly subtle textures. Whether our client wants to fire up the grill, relax on the deck, or lounge in the living room, they can enjoy the best of casual luxury.
Like what you see? We can make your vision happen.
Our team of cabinet, flooring, and countertop specialists will coordinate to make every space in your home feel like home.
Ada Project Kitchen Renovation
A complex design to make room for more little ones.
Designed with care for loved ones to age with grace.